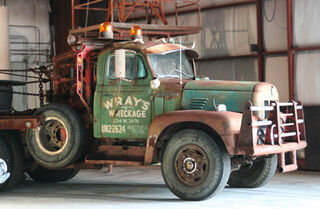 Wray's Wreckage is a fictional company owned by Wray.
Planet Terror
The company itself isn't seen in the film, but Wray is seen driving a toe truck. The vehicle is seen and used many times during the film. Hague asks Wray about the company while in The Bone Shack.
Trivia
El Wray refers to the truck as 'the Killdozer'.
See Also
International Harvester R-Series
Gallery
Ad blocker interference detected!
Wikia is a free-to-use site that makes money from advertising. We have a modified experience for viewers using ad blockers

Wikia is not accessible if you've made further modifications. Remove the custom ad blocker rule(s) and the page will load as expected.