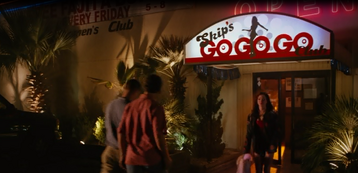 Skip's Go-Go-Go Club is a location seen in Planet Terror.
Planet Terror
The club is owned by Skip. Cherry had quit from this club because she said that she needed a dramatic change in her life.
Planet Terror
Appearance
Cherry can be seen dancing in the club in the begining of the film. Backstage, she is confronted by Skip. She then leaves.
Mentioning
The club is mentioned by Deputy Tolo later in the film. He said he had to arrest a man beacuse he was making a ruckus at Skip's place.
See Also
Gallery
Ad blocker interference detected!
Wikia is a free-to-use site that makes money from advertising. We have a modified experience for viewers using ad blockers

Wikia is not accessible if you've made further modifications. Remove the custom ad blocker rule(s) and the page will load as expected.