Single Action Army is a weapon utilized in Planet Terror.
Planet Terror
A Single Action Army is used by Earl McGraw. It is amazingly seen firing seven shots when he uses it against the infected Dr. Block. Director Robert Rodriguez notes on the DVD commentary that he purposely added the seventh shot in the sound mix.
Earl McGraw
McGraw draws his SAA as his wife has been infected.
McGraw holds his SAA on Dr. Block.
McGraw fires his SAA at Dr. Block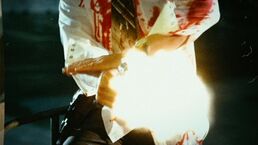 Ad blocker interference detected!
Wikia is a free-to-use site that makes money from advertising. We have a modified experience for viewers using ad blockers

Wikia is not accessible if you've made further modifications. Remove the custom ad blocker rule(s) and the page will load as expected.