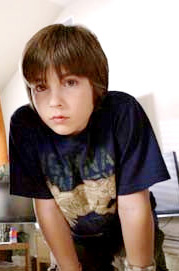 Rebel Rodriguez portrays Tony Block in Planet Terror
Biography
Rebel Rodriguez (born 1999) is an American actor and son of writer/producer/director Robert Rodriguez and producer Elizabeth Avellan. He has 2 older brothers - Rocket and Racer, one younger brother Rogue and one younger sister Rhiannon. Rebel has appeared in several films directed by his father including Planet Terror, Shorts, and The Adventures of Sharkboy and Lavagirl in 3-D.
Filmography
Planet Terror trivia
Robert Rodriguez found the scene where Dr. Dakota Block leaves son Tony in the car with gun to be so chilling to film he didn't want to use anyone else's children to play Tony so he used his own son, Rebel Rodriguez, so he wouldn't feel as bad "killing a child".
Partly to avoid traumatizing Rebel Rodriguez with knowledge of his disturbing death scene, Robert Rodriguez shot several scenes with Tony surviving all the way to the end of the movie. Some of this is seen on the DVD, but apparently the only complete edit with this footage is a private copy of the Rodriguez family's.
Sources
Gallery
Ad blocker interference detected!
Wikia is a free-to-use site that makes money from advertising. We have a modified experience for viewers using ad blockers

Wikia is not accessible if you've made further modifications. Remove the custom ad blocker rule(s) and the page will load as expected.