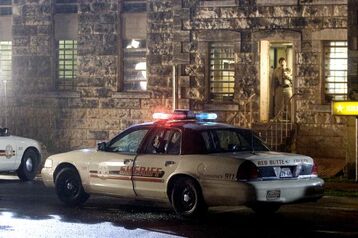 Police Station is a location seen in Planet Terror.
Planet Terror
This location is first seen when Wray is brought there by Sheriff Hague. Earl McGraw is seen leaving, Wray asks him about his wife, Romona. After a brief conversation, he leaves. Wray is seen talking to someone on the phone. Sheriff Hague got a call from J.T.. Later, Deputy Tolo barges in and says that a man bit ihis finger off. Carlos is appointed to get him. Later a battle ensues, Carlos is killed in the process and Wray, Tolo and Hague leaves for the hospital.
Gallery
Ad blocker interference detected!
Wikia is a free-to-use site that makes money from advertising. We have a modified experience for viewers using ad blockers

Wikia is not accessible if you've made further modifications. Remove the custom ad blocker rule(s) and the page will load as expected.