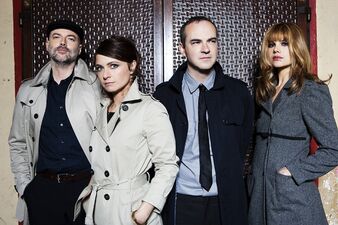 Nouvelle Vague is French cover band who sung Too Drunk To Fuck.
Overview
Nouvelle Vague is a French cover band led by musicians Marc Collin and Olivier Libaux. Their name means "new wave" in French. This refers simultaneously to their "Frenchness" and "artiness" (the '60s new wave of the French cinema cult), the source of their songs (all covers of punk rock, post-punk, and New Wave songs), and their use of '60s bossa nova-style arrangements.
Members, former members and contributors include many French artists who are now very well known on their own and consideredRenouveau de la chanson Française" (Nouvelle Chanson) Camille, Phoebe Killdeer, Mélanie Pain, Marina Céleste and Gerald Toto. Mareva Galanter joined the roster of vocalists in 2010.
as part of what is now called the "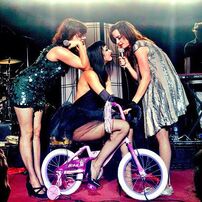 Discography
Featured Albums
Nouvelle Vague (2004, Peacefrog Records)
Bande à part (2006, Peacefrog Records)
3 (2009 Peacefrog Records)
Acoustic (2009, New Sound Dimensions) – limited edition, released in Portugal only, live performance
Best of (2010, Peacefrog Records)
The Singers (2010, New Sound Dimensions)
Singles
"Eisbaer" (2006, The Perfect Kiss / Peacefrog Records)
Other contributions
Late Night Tales: Nouvelle Vague (2007, Azuli) — Nouvelle Vague remixes of other artists' tracks
Acoustic 05 (2005, Echo) — "Just Can't Get Enough"
Chillout Sessions 9 (2006, Ministry of Sound) — "Blue Monday"
Acoustic 07 (2007, V2 Records) — "Heart of Glass"
Their cover of The Dead Kennedys' "Too Drunk to Fuck" was used in the 2007 film Planet Terror.
Sources