Mossberg 500 Bantam is a weapon used in Planet Terror.
Planet Terror
Deputy Carlos (Carlos Gallardo) use a Mossberg 500 Bantam that has the barrel slightly sawed down until he is killed. Sheriff Hague (Michael Biehn) then uses it until they are forced to leave The Bone Shack.
Deputy Carlos
Deputy Carlos with his Mossberg 500 Bantam as he goes to get zombie that bit Tolo's finger off.
Sheriff Hague
Hague is seen with the Mossberg 500 Bantam as they arrrive at The Bone Shack. He is forced to break out the 'all or nothing box' of deputy badges.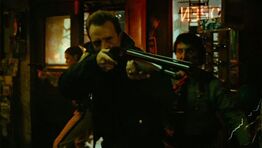 Hague with Carlo's Mossberg as he checks out his brother J.T's place.
Ad blocker interference detected!
Wikia is a free-to-use site that makes money from advertising. We have a modified experience for viewers using ad blockers

Wikia is not accessible if you've made further modifications. Remove the custom ad blocker rule(s) and the page will load as expected.