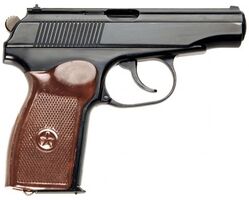 The Marakov PM is a weapon utilized in Planet Terror.
Planet Terror
Abby uses a Makarov PM when the deal for the "shit" with Lt. Muldoon goes bad.
Abby
Using the Marakov PM, Abby shot Romy for losing his specimens he needed to study. Abby also points his Makarov PM at the DC2 containers saying the deal is still good. Abby fires his Makarov PM at
Lt. Muldoon
.
Ad blocker interference detected!
Wikia is a free-to-use site that makes money from advertising. We have a modified experience for viewers using ad blockers

Wikia is not accessible if you've made further modifications. Remove the custom ad blocker rule(s) and the page will load as expected.