M16A2 Rifle is weapon seen in Planet Terror.
Planet Terror
Some of the survivors carry M16A2s when they make their escape from the military base.
Survivor
A survivor is seen with the weapon.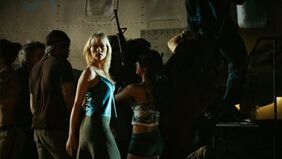 Special
From "The Badass Babes of Planet Terror" Emmy Robbin with an M16A2 and Electra Avellan with an M16 or M16A1. The actual scene shot was done at a distance so the A2 handguards aren't clearly visible.