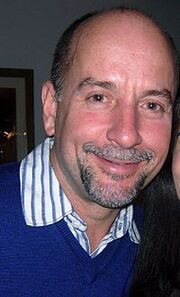 Julio Oscar Mechoso
is an American actor. He portrayed
Romey
.
Overview
Julio Oscar Mechoso (born May 31, 1955) is an American actor. He is occasionally credited as Julio Mechoso.
Mechoso is a character actor in both television and film. He has appeared in several high-profile films, such as Grindhouse, Bad Boys and the controversial Ken Park. His television credits include Miami Vice, Coach, Seinfeld, and Greetings from Tucson. He has appeared in two Martin Lawrence films, Bad Boys and Blue Streak. He played a Police Detective in both.
Mechoso is a Cuban American.
Filmograhy
Sources
Gallery
Ad blocker interference detected!
Wikia is a free-to-use site that makes money from advertising. We have a modified experience for viewers using ad blockers

Wikia is not accessible if you've made further modifications. Remove the custom ad blocker rule(s) and the page will load as expected.