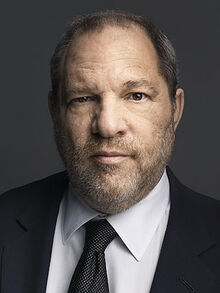 Harvey Weinstein
is an executive producer of
Planet Terror
.
Biography
Harvey Weinstein was born on March 19, 1952 in Flushing, Queens, New York City, New York, USA. He is a producer, known for Gangs of New York (2002), Pulp Fiction (1994) and Shakespeare in Love (1998). He has been married to Georgina Chapman since December 15, 2007. They have two children. He was previously married to Eve Chilton Weinstein.
Trivia
Older brother of Bob Weinstein.

Co-founder, with Bob Weinstein, of Miramax Films.

Named his company Miramax after his mother, Miriam, and his father, Max.

Son of Miriam Weinstein and Max Weinstein.

At six feet tall, he has weighed over 300 pounds for several years.

Member of the Democratic Party.

Had a heart attack in August 2000.

An alumni of the State University of New York at Buffalo.

His father, Max Weinstein, died from a heart attack at age 52.

Started The Weinstein Company with brother Bob Weinstein.

Interested in producing a remake of the movie C.H.U.D. (1984).

He was made a Fellow of the British Film Institute in recognition of his outstanding contribution to film culture.
Sources
Gallery
Ad blocker interference detected!
Wikia is a free-to-use site that makes money from advertising. We have a modified experience for viewers using ad blockers

Wikia is not accessible if you've made further modifications. Remove the custom ad blocker rule(s) and the page will load as expected.