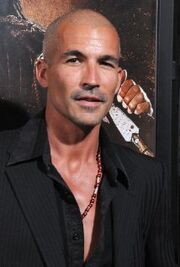 Ethan Maniquis is an American film editor.
Filmography
Editor
Year
Film
Director
Notes
1997
Real Stories of the Donut Men
Beeaje Quick
1999
Absolutely 100% Guilty
David G. Phinney
Documentary
2005
Secuestro Express
Jonathan Jakubowicz
2006
Behind Enemy Lines II: Axis of Evil
James Dodson
Direct-to-DVD
2007
Grindhouse
Robert Rodriguez
Segment: Planet Terror
2008
The Other End of the Line
James Dodson
2009
Shorts
Robert Rodriguez
2013
The Last Duane
Chris Ekstein
Pre-production
Hands of Stone
Jonathan Jakubowicz
Other
Year
Film
Director
Role
1995
Desperado
Robert Rodriguez
Assistant film editor
Four Rooms
Apprentice editor
1996
From Dusk Till Dawn
Assistant editor
1999
Passion and Romance: The Wings of the Dove
N/A
Documentary
Post-production coordinator
2001
The Man with No Eyes
Tim Cox
Short film
Visual effects editor
2002
Spy Kids 2: Island of Lost Dreams
Robert Rodriguez
Visual effects editor
2003
Spy Kids 3-D: Game Over
Visual effects editor
Once Upon a Time in Mexico
Visual effects editor
2005
Sin City
Actor (Bozo #1) & Associate editor
2010
Machete

Co-director
Sources
Gallery
Ad blocker interference detected!
Wikia is a free-to-use site that makes money from advertising. We have a modified experience for viewers using ad blockers

Wikia is not accessible if you've made further modifications. Remove the custom ad blocker rule(s) and the page will load as expected.