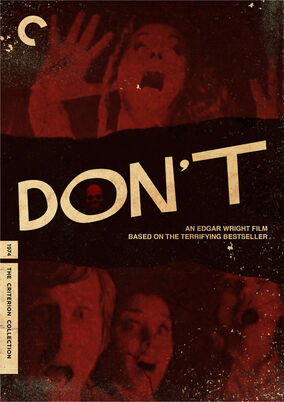 Don't is fake trailer seen in the Grindhouse Double Feature. This is the third fake trailer, or the fourth for Canada only.
Plot/Summary
A crazy horror trailer which is a warning to the audience. "DON'T! DON'T! DON'T!..."
Cast
Jason Isaacs as  Bearded Man
Matthew MacFadyen as  Hatchet Victim
Katie Melua as Brunette with Hatchet Victim
Stuart Wilson as  Old Man
Lucy Punch as  Running Blonde Woman
Simon Pegg as  Cannibal
Nick Frost as "Baby" Eater
Kevin Wilson as The Twins
Nick Wilson as The Twins
Will Arnett as  Announcer
Gallery
Ad blocker interference detected!
Wikia is a free-to-use site that makes money from advertising. We have a modified experience for viewers using ad blockers

Wikia is not accessible if you've made further modifications. Remove the custom ad blocker rule(s) and the page will load as expected.