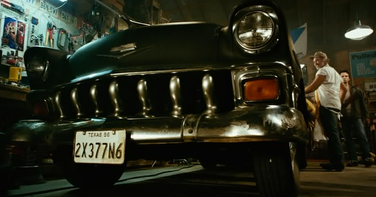 Chevrolet Bel Air (1956) is a vehicle seen in the film.
Overview
The Chevrolet Bel Air was a full-size automobile that was produced by the Chevrolet division of General Motors for the 1950–1975 model years. Hardtops in the Chevrolet Deluxe Styleline model range were designated with the Bel Air name from 1950 to 1952, but it was not a distinct series of its own until the 1953 model year. Bel Air production continued in Canada for its home market only through the 1981 model year.
In The Film
The car is
J.T.'s
and is used to escape the
Sickos
at
The Bone Shack
.
Sources
Ad blocker interference detected!
Wikia is a free-to-use site that makes money from advertising. We have a modified experience for viewers using ad blockers

Wikia is not accessible if you've made further modifications. Remove the custom ad blocker rule(s) and the page will load as expected.