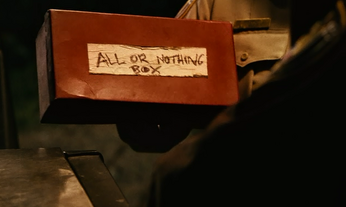 The All Or Nothing Box is an item seen in the film.
Planet Terror
As Wray and Cherry arrives at The Bone Shack, Deputy Tolo gets the box and asks Sheriff Hague if he is sure he wants to do this. He then empty the contents of the box onto the hood of a car. The box was filled with badges and Hague tells them that of this moment, they are all appointed deputies.
Gallery
Ad blocker interference detected!
Wikia is a free-to-use site that makes money from advertising. We have a modified experience for viewers using ad blockers

Wikia is not accessible if you've made further modifications. Remove the custom ad blocker rule(s) and the page will load as expected.